The first thing I notice about Ginevra is that she looks younger than her age. It feels like she's younger, actually: I guess it's something in her minute silhouette, or in the way she sweetly and bashfully welcomes us in her apartment in the historic town center of Palermo, Sicily.
The house is astonishing. You enter a narrow alley, open the rusty front gate of an undistinguished building, and find yourself in a place where time seems to stand still.
"When we chose this house our friends made fun of us. You bought yourselves a playground! - they said". She and Gianfranco, her partner, are both restorers and have known each other since university. Three years ago, they decided to move in together. "We saw the potential of this house since the first time we saw it, but it was quite intimidating. It was completely to be restored - which is the fun part for us - but even too big for two. I remember having thought - no, not in Vucciria".
I see what she means. Piazza Garraffello, the heart of the Vucciria market, is just 150 meters far and used to host a sort of unauthorized open-air disco. The place was packed and noisy almost every night. "But then, after a year, we discovered by chance that the house hadn't been sold yet. And in the meantime, a group of young investors had begun reevaluating the neighborhood. We thought - if it's still here, maybe it's a sign".
Seeing the result, I'm glad they followed their gut. "Last year, during the first lockdown, we decided to take advantage of the forced vacation to work on the house. We did everything by ourselves. It may sound daunting, but not for us. It was actually great to have a private restoration site; when you work for a customer, the way you would do things doesn't always match with their requests. We treated every single corner with great respect. And we were excited to restore all the original details".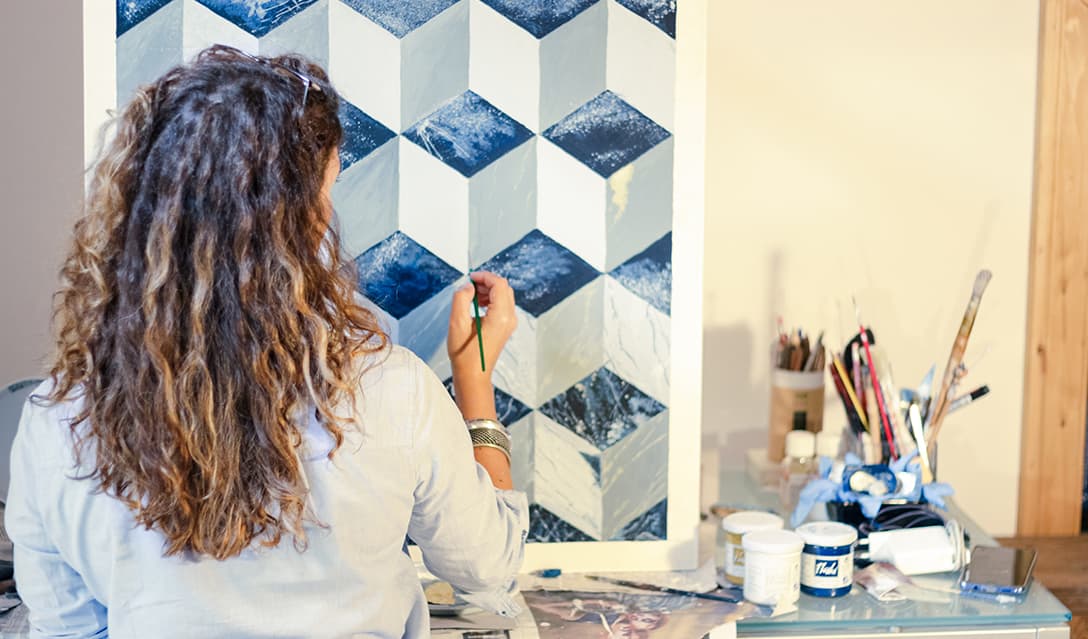 In return, the house started unveiling its hidden treasures. Perfectly preserved majolica tiles were found inside a niche in a wall and used for part of the flooring. A charming small cabinet, now cleaned up from the signs of aging, adds character to the interiors. And a stunning frescoed wooden ceiling, covered by a vault and found thanks to Ginevra and Gianfranco's curiosity, has been restored to its former glory.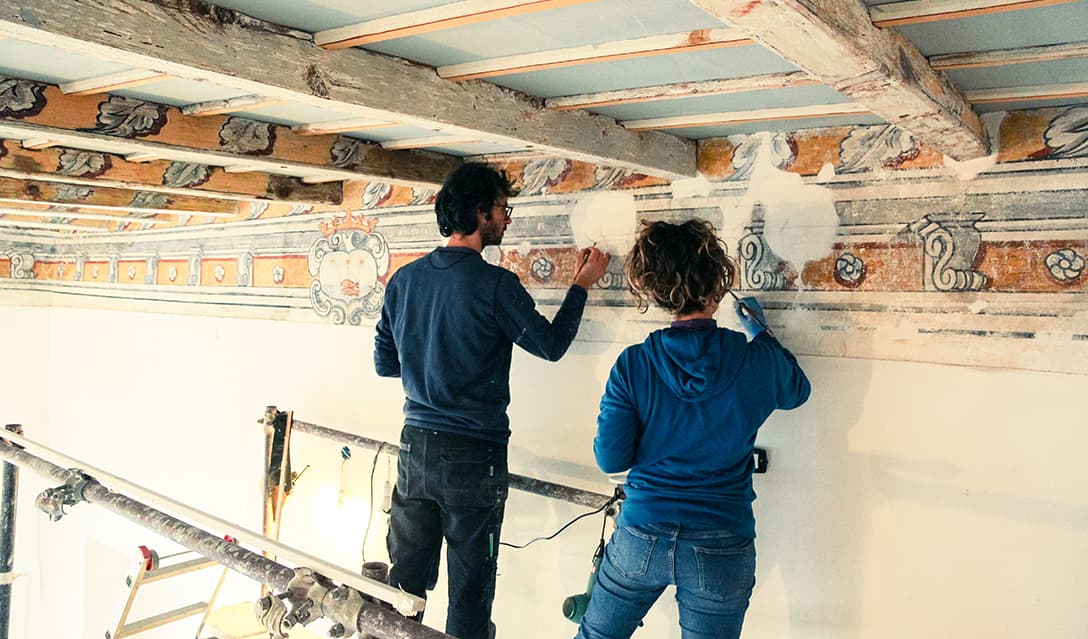 Ginevra is a skilled painter. The brush is her favorite tool: "it seals all the hard work made with the syringe, the scalpel, the Japanese paper… It makes everything look vibrant again".
Among other works, she and Gianfranco restored ancient mosaics in Piazza Armerina and medieval panels at Palazzo Steri, one of the symbols of Palermo city, containing seven centuries of Sicilian art and history.
Her genuine love for restoration shines through every word. "I love it when tourists come and visit the open building sites. And I'm also happy that eco-friendly products are now available; we once repotted a plant with used cleaning swabs. It's such a lively experience. You can truly understand the beauty of this job when you see the process in the making".
To me, it's apparent that it's more than just a job. "Gianfranco and I got so obsessed with the Cirneco dell'Etna" (a purebred hunting dog brought to Sicily by the Phoenicians). "We kept stumbling upon these sleek dogs painted on wood panels, on ceramics… We decided there had to be one in the family. So we adopted a puppy of the same breed and named him Ruskin, after the famous English art critic. It's crazy, I know".
But it's far from sounding crazy. Everything about Ginevra and Gianfranco's life looks harmoniously consistent.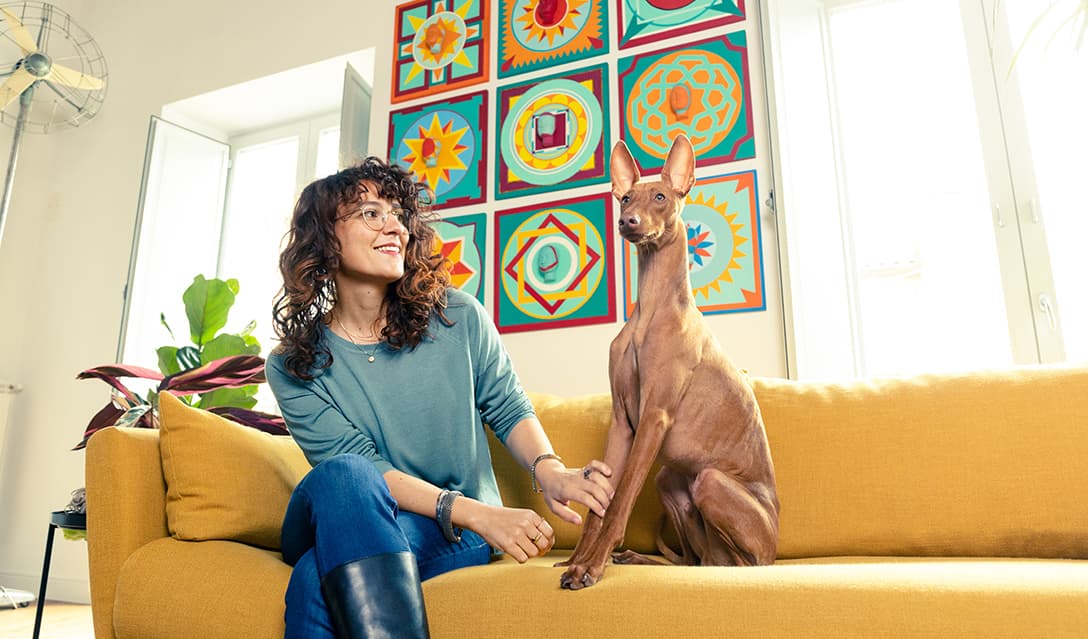 Part of their passion is a family thing. Ginevra's father worked as a set designer at Palermo's Teatro Massimo, the largest theater in Italy and the third largest in Europe after the Opéra National in Paris and the Staatsoper in Vienna. Now retired, he creates artworks reusing old Sicilian puppets. They were exhibited in several of the city's theaters, monuments and museums - "But I keep the best pieces for myself", says Ginevra with a satisfied smile.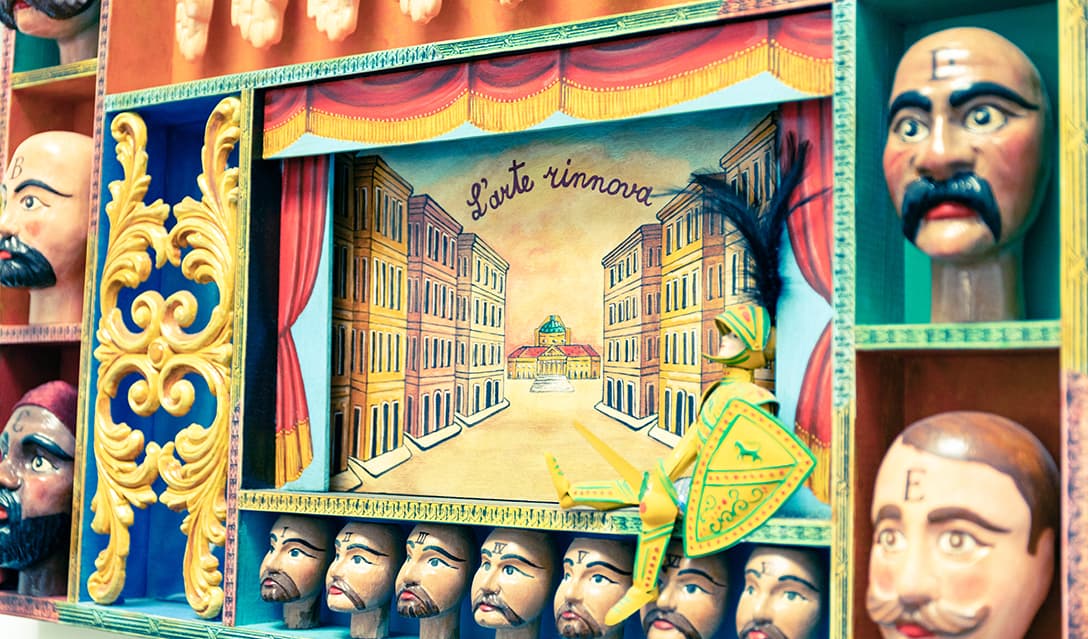 A detail of an artwork by Ginevra's father.
Restoration runs in Gianfranco's blood, too. Grown among the tools of the trade inside her mother's studio, he started learning by doing. "That's the essence of this job. We learn how to glue the panels together, pave the mosaics and decorate the surfaces by looking closely at the ancient craft. There's no manual to study from. You observe the artifacts to find out the technique".
He's a quiet guy, but he opens up when I ask him about his viols. He builds them the baroque way - sometimes on commission, but mostly for his own pleasure. "I started at a friend's workshop in Marineo, the small town where I was born. He makes medieval instruments, while I specialize in the viola da gamba. I admit I'm biased because of my studies and my job - I can't help but be fascinated by the old way of doing things".
He explains that modern luthiers use standardized processes and materials. Instead, he looks for antique projects stored in the museum's archives. Some are hang up in their home studio: they come from Berlin, Paris, Nuremberg, and London. "I look for cherry-tree and other fine woods in the countryside. You never find that types of wood in modern violins. I build everything from scratch except for the strings - these are from Toro, a famous artisan from Pescara. He makes them one by one using the rams' bowels, and then coats them in silver. He sells them all over the world".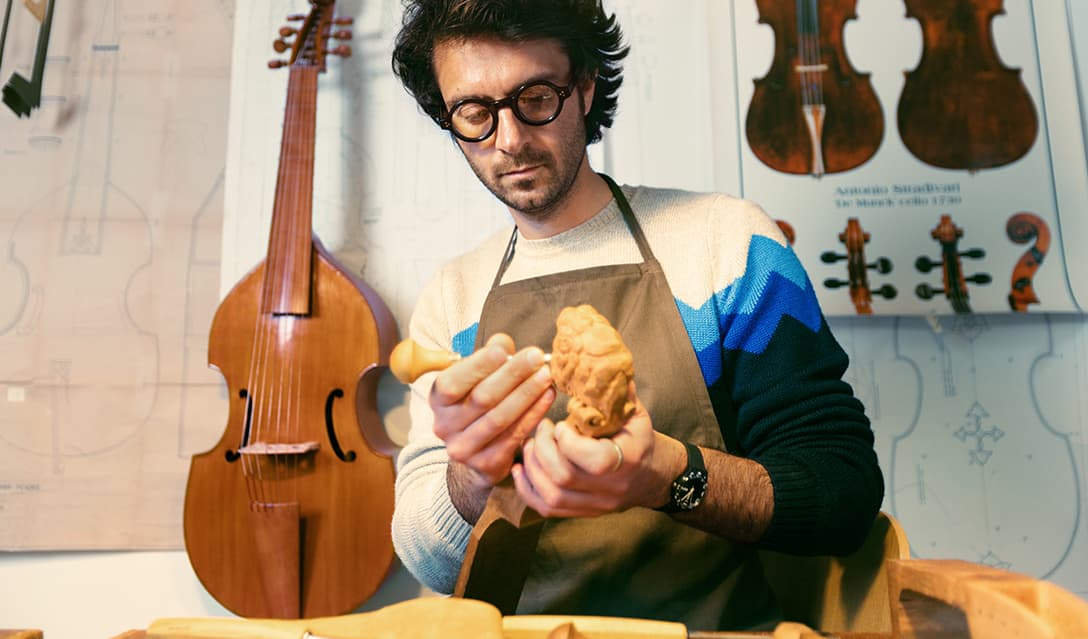 Gianfranco goes for a philological approach, but also likes to mix and match. "That's also part of the ancient craft. It was the luthiers' habit to combine different types of materials and decorations."
He is clearly a perfectionist, but one that sees imperfections as a sign of uniqueness. His ambition is to create something that's well-made.
When I ask him what's his favorite tool, he has no doubt: "The hands. Because they faithfully follow the mind's intention and get worn out, just like a plane or any other tool. Cuts, chaps and calluses are the norm".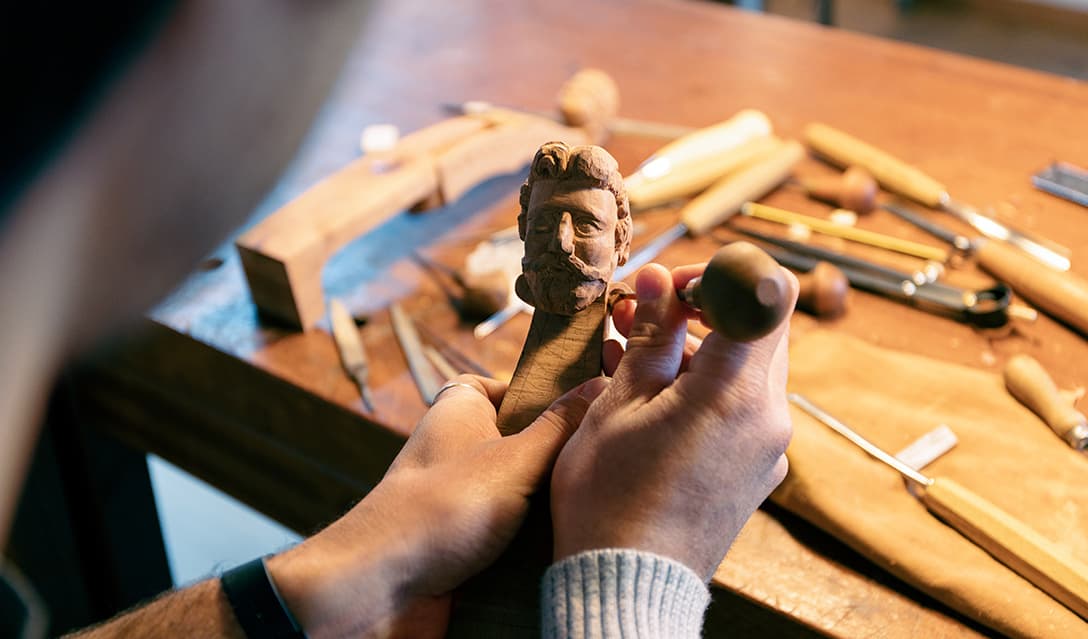 We move upstairs, on the terrace. It's getting cloudy, but nothing can ruin the relaxed atmosphere. The guys offer us a delicious cake - "Gianfranco is the pastry chef, here". We sip hot coffee and keep chatting about their upcoming projects. "We went back to university to study the history of art. Again - it's for work!".
And again, I see it's rather a way of living. Gianfranco seems younger, too, and now that I know both of them a bit more I understand why.
Who lives slowly, ages slowly.
Creative Direction: Daniela Vutera
Photography: Ignazio Marsolo