The forever allure of cat-eye sunglasses
The forever allure of cat-eye sunglasses
When it comes to eyewear, not many styles are more iconic than cat-eye sunglasses. A classic wardrobe fixture, the cat-eye has become an essential part of the savvy-dresser's look. And for good reason; it was perhaps one of the first shapes that was designed with a fashion-slant in mind.
The history of the cat-eye shape
The beginnings of the cat-eye frame trace back to American artist Altina Schinasi, who felt underwhelmed with optical options offered for the modern woman.
"Surely, there must be some way to design eyeglasses that could be attractive! What looks good on a face? What adds to a face? What could a woman wear on her face that would be romantic?"
- Altina Schinasi
Inspired by harlequin masks, Schinasi began crafting shapes that were playful and glamorous, showcased by a swooping uplift with the lenses tilted down, framing the face's natural contours. Initially rejected by major eyewear manufacturers, Schinasi believed in her invention and found success in smaller, yet more high-end luxury boutiques that catered to the fashion-forward woman.
At the end of the '30s, Schinasi's Harlequin glasses received so much popularity that she was given the American Design Award for her inventive new silhouette. Popularity only grew from there, and what we now know to be the cat-eye frame started to become the model of choice in the '50s and '60s, from Marilyn Monroe's semi-rimless cat-eye glasses in How to Marry a Millionaire to Audrey Hepburn in Breakfast at Tiffany's.
What face shape suits cat-eye sunglasses?
The best thing about cat-eye sunglasses is that they work with any face shape. Round and oval faces can create natural contour with the shape's classically pointed edges, while those with square, diamond and heart-shaped faces can soften angular features with a more oversized, rounded cat-eye sunglass.
Are cat-eye sunglasses in style in 2022?
Yes - the cat-eye look has only cemented itself as an iconic style, and its popularity doesn't seem to be going anywhere anytime soon.
Here are the best timeless cat-eye styles that continue to be on-trend this year.
Black cat-eye sunglasses
What could be more timeless than the black cat-eye? Undeniably sleek, it's a choice that cool girls have worn throughout the years - think Anouk Aimee in Fellini's La Dolce Vita or even the off-duty looks from the likes of Kate Moss and Megan Markle. Our favorite way to look mysteriously glamorous? In a pair of black Saint Laurent cat-eye sunglasses.
White cat-eye sunglasses
This style gives a statement twist to the classic look. Slightly sporty looking, but all together chic and very versatile. Whether you match your white cat-eye shades with a neutral look for a unique touch or go maximalist in saturated layers, you can search for your perfect pair here.
Oversized cat-eye sunglasses
Characterized by a bigger frame with a wider lens and an even more dramatic upswept design, oversized cat-eye sunglasses can start from a butterfly, square or even rectangular shape base, but are always recognizable by their pointed edges. With their exaggerated proportions, we love Tom Ford's offerings of oversized cat-eyes.
Retro cat-eye sunglasses
Inspired by the classic cat-eye sunglasses of the '50s, the retro cat-eye look is characterized by a stronger wingtip design for a more pronounced browline and an exaggerated uplift. If you're craving a more vintage cat-eye look, Alessandro Michele has perfected the formula with Gucci's cat-eye sunglasses, whose new collection references the house's heritage as seen by the reiteration of the Gucci running logo along the temples.
Pink cat-eye sunglasses
You can thank barbiecore for fashion's recent fascination with all things pink. Yet, thinking pink is nothing new. In the words of Alessandro Michele, "I adore pink; it's very powerful. It makes you feel sweet and sexy, also if you are a man." Pink cat-eye sunglasses are undeniably romantic and full of attitude, and we're sure that Michele would agree.
Can men wear cat-eye sunglasses?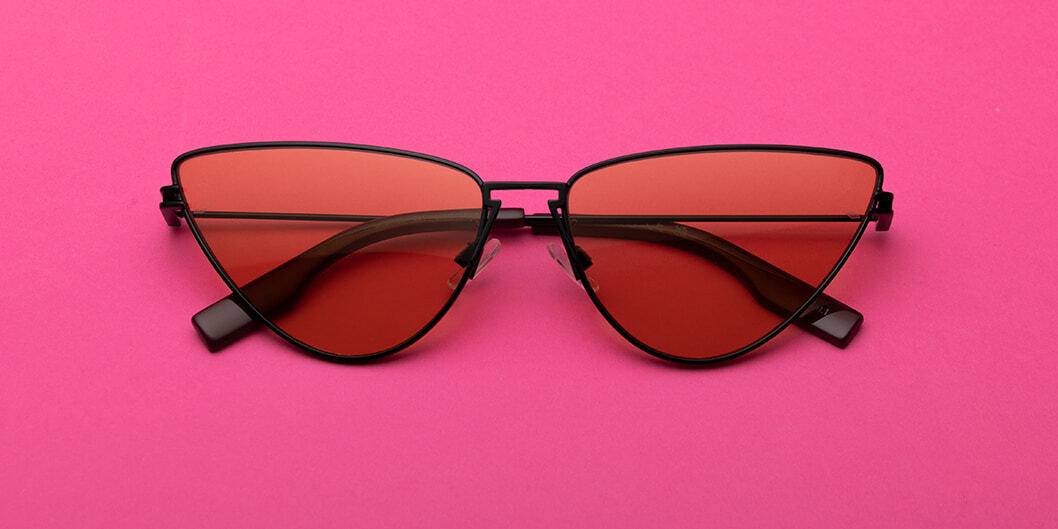 Current iterations refresh tradition, with cat-eye sunglasses becoming a staple look not just for women, but men too. After all, sunglasses are always unisex so it only makes sense that this look is also genderfluid. Celebrities seem to feel the same way, as seen by Justin Bieber's Balenciaga cat-eye shades and Timothee Chalamet's buzzy look at the 2022 Venice Film Festival, where he was sporting black Ray-Ban cat-eye sunglasses.