Gucci Goes Retro for the Year of the Tiger
Gucci Goes Retro for the Year of the Tiger
Chinese New Year welcomes the changing of the tides as we mark the end of winter and move onto the next year's exciting new prospects. Celebrated best through shared festivities involving grand meals, special gifts and paying respects to loved ones, it's a time to welcome fortune, joy and prosperity.
Joining in on the celebrations, Gucci has welcomed the holiday with Gucci Tiger, a dedicated capsule collection specifically designed with the symbolic tiger in mind. Inspired by a modern flair and the brand's own rich heritage, the colorful collection adds a light-hearted whimsy to the festival spirit.
View this post on Instagram
Under the creative eye of director Alessandro Michele, Gucci Tiger pays homage to the great animal with a reinterpretation of the animal's habitat through the beauty of nature. Blending past and present, Michele reworks his own fascination with wildlife with inspirational archival references, namely the flora motif.
Conceptualized in the 1960s by artist Vittorio Accornero for Gucci, the signature pattern is reinterpreted for the holiday in stylish ready-to-wear ensembles and accessories. The modern figure of the tiger situates itself against the retro pattern, depicting the big cat's serene environment as surrounded by lush colors and rich flora and fauna. Captured by Angelo Pennetta, the campaign sets the vintage mood in a retro-styled hotel while models sip tea.
View this post on Instagram
Introducing the Gucci Tiger Sunglasses
The soft hues of the campaign are encapsulated in the brand's limited-edition Gucci Tiger sunglasses. The model features a rimless rounded frame with playful hanging pendants, spelling out 'Gucci Tiger' on one side and the iconic interlocking GG monogram on the other. Attached to the arm tips with a metal clasp, the pendants are easily removable, for added versatility when styling.
With two vibrant models, the frames allow you to play with your new year look with the choice of a brown lens with black and red charms, or the orange lens with light blue and red.
A sustainable new year
Characterized by its unchallenged strength, the Year of the Tiger brims with bravery and courage. With that, it seems appropriate that the luxury house has also strengthened their approach to meaningful pursuits. Since 2020, Gucci has been part of the Lion's Trust Fund to support the safeguarding of endangered wildlife as well as their habitats. And continuing their commitment to the environment, all packaging for the capsule collection will be eco-friendly with fully recyclable materials.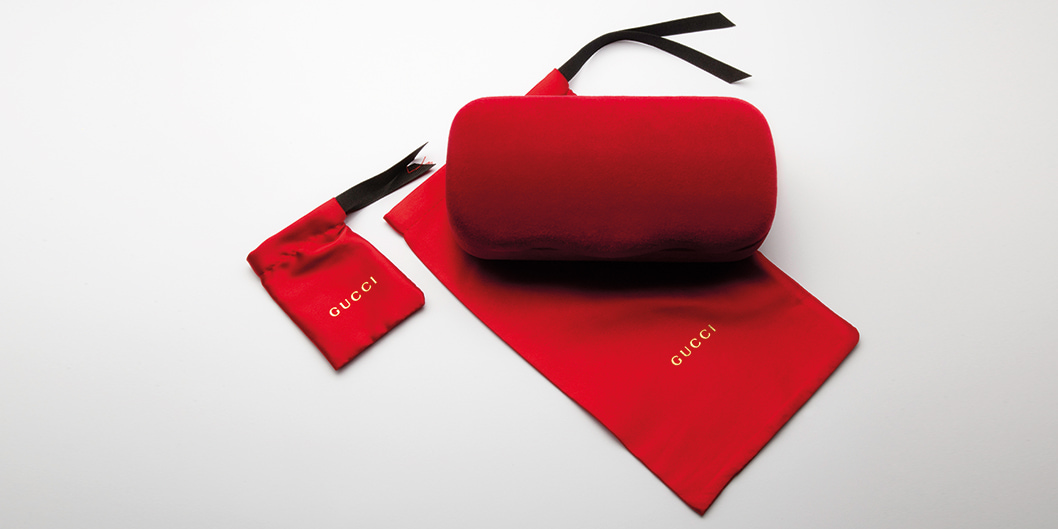 Each frame comes with a selected jewel-toned velvet case with coordinating satin lining, satin pouch and ivory microfiber cloth, chosen exclusively for each unique style.